Department of Physics
The Institute has highly qualified & experienced faculty for teaching the Physics. Respective faculty of this department strive hard to instill a strong foundation on the fundamentals of basic science in the minds of students, which will facilitate the students throughout their engineering education & professional engagements. The institute has state of the art laboratories & teaching methodologies for the students.
HOD'S Desk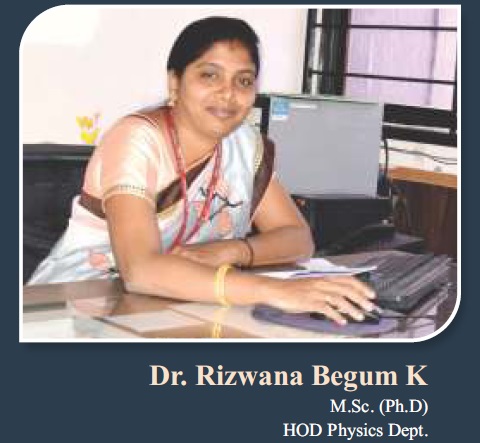 Engineering Physics Department is one among the basic science departments, imparting the fundamental knowledge to students, required in almost all engineering streams. The department is having highly qualified and experienced faculty, best infrastructure and well equipped with latest experimental set ups, and provide excellent theoretical and practical knowledge in physics.
All the faculty are actively involved in research and development (R & D) activity since four years in areas like microstrip antenna design & development, material science and nano ferrites and allied fields. They have presented many papers in international conferences and communicated to Journals. The department provides opportunities like curricular, co-curricular and extra-curricular activities to instill overall personality development. This will establish a cordial relationship between students and teachers, which will promote teaching and learning process to excellence.