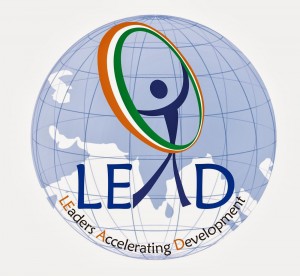 Complaints ….. start with THEY, Solutions …. Start with I
LEAD's  Expansion:    LEADers  21,276  +    |    Leadership  Projects   5,360   +    |   Colleges   100  +    |   States    5 
The youth of today are the leaders of tomorrow. Forming close to 60% of the population, it is the youth of India who have the ideas, energy, passion for a better India, and they need to realize their potential. To that purpose, the LEaders Accelerating Development (LEAD) Program of the Deshpande Foundation was born. LEAD develops innovative and entrepreneurial thinking within college students by exposing them to social issues, encouraging them to volunteer their time and effort into the community, and igniting their latent talent to come up with creative solutions. Through this unique platform provided by LEAD, students are gaining the skills and confidence needed to transform their visions into realities. Armed with guidance, exposure, networking opportunities, financial assistance, and encouragement from LEAD, students from throughout 75 colleges and 14 districts are unleashing their leadership potential to go on inspiring and improving those around them.
Genesis
Youth cannot say 'there's a problem in society' and not do anything; they must do more because they have the power to do so." Naveen Jha looks back fondly on 2008 and how LEAD started. He recalls spending numerous weekends at BVB College of Engineering and Technology with keen, eager students who wanted to make a positive impact. There were about 80 participants then, and they came up with creative ideas to contribute to the community. Dubbed "Colours of Youth", they brainstormed and implemented 8 or 9 innovative projects: making fuel from biomass, how to promote open source software, setting up a viable traffic control system.
"The kids were excited and having fun. They looked forward to Saturdays and Sundays when they could spend time on their projects." With the success of Colours of Youth, the Deshpande Foundation was supporting so many projects that a separate program needed to be formed to handle the extensive demand. Naveen decided to expand the program and give it structure, and thus, on Aug. 15, 2008, LEAD was founded.
Fifteen days after the initial kickoff event, 400 LEAD registrations had been collected. From that day forth, LEAD has represented its mission through its slogan of eight simple words: "Complaints… start with They, Solutions… start with I". This self-empowering statement has come to define the program, as it connects students to the belief of local leadership, innovation, and entrepreneurship as catalysts of social development. Thanks to Naveen's intensive mentor-ship and the students' perseverance, LEAD continues to grow, creating and implementing powerful ideas into a developing country.
Today, the number of LEAD participants has increased tenfold from a mere 1,200 members at its initiation to an impressive 18,000. And this number is continually expanding as LEAD grows to stimulate more bright minds and producing more meaningful impact.
About Deshpande Foundation
Founded by Gururaj (Desh) and Jaishree Deshpande in 1996, the Deshpande Foundation is the family's investment in promoting entrepreneurship and innovation as catalysts for change. Over the last 16 years, the Deshpande Foundation has embarked on large scale projects in the United States, Canada, and India.
The Deshpande Foundation encourages the use of entrepreneurship and innovation as catalysts for sustainable change in pursuit of economic development. We carefully select entrepreneurs, ideas, and strategies and in turn connect these to resources, networks, and opportunities for further engagement and growth. Over the last eight years, the Foundation has helped over 90 NGOs in India to connect their innovations to relevance. As well, we have developed nine programs catering to different target groups such as youths, young professionals, rural inspiring entrepreneurs to educate and kindle the sparks of entrepreneurship.
"For college youngsters, the best way to learn is to learn by doing. LEAD is a great example of how to create opportunities for students to come together, identify a problem, get their own resources, and to actually solve the problem. That is an amazing educational experience. What is happening in this Hubli-Dharwad area is a very innovative way of teaching people through building real skills. The enthusiasm and initiative that these young students have taken is an amazing phenomenon, and it will be great if they can build on what they've learned here. LEAD is positioned to be a great model for solving problems throughout the world. I look forward to seeing the program grow."~ Dr. Gururaj "Desh" Deshpande, Co-founder, Deshpande Foundation
"These students have experienced the power of leadership and have had a positive impact on society by touching thousands of lives. LEAD is an opportunity for today's youth to come forward and gain leadership and confidence. We encourage young leaders to think out of the box, be action-oriented and be solution makers, instead of complaining on the sidelines of society. From the last four years I have seen young students transforming themselves and being leaders by their own initiatives and examples." ~ Ajay Suman Shukla, Functional Head, LEAD.
                                                                                 — Programme Co-ordinator
                                                                                  Prof. Ramachandra Turkani
                                                                                               Dept. of Electronics & Comm. Engg.
                                                                                                   Contact No.:
 +91-7760939101
                                                                                   E-mail :
[email protected]